Tomato Focaccia with Garlic & Rosemary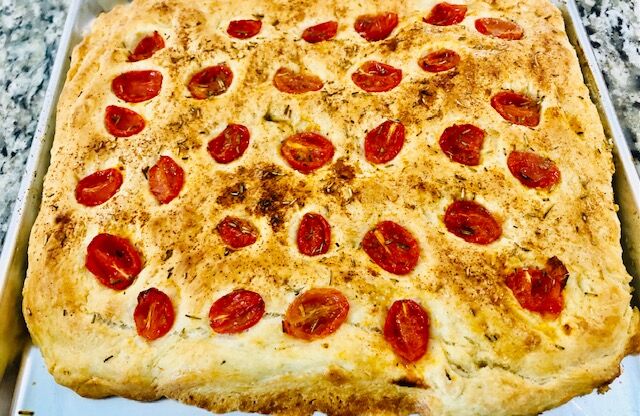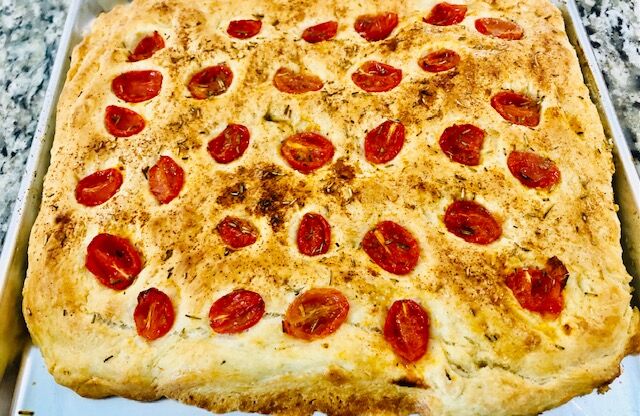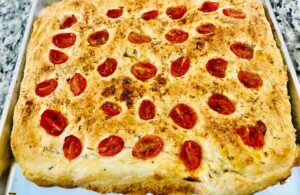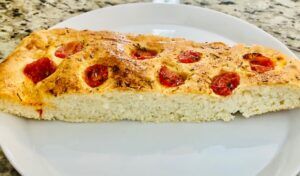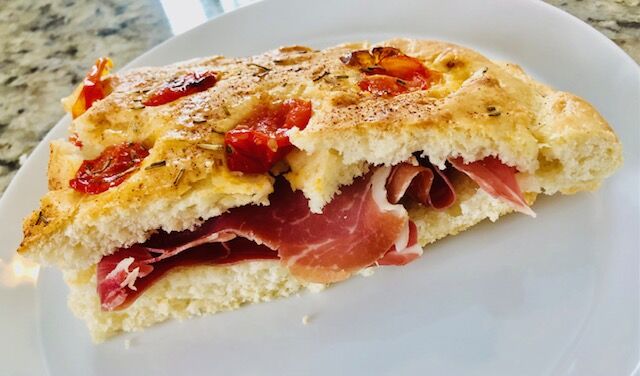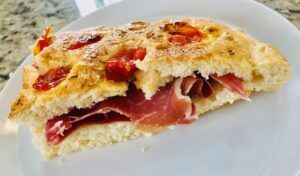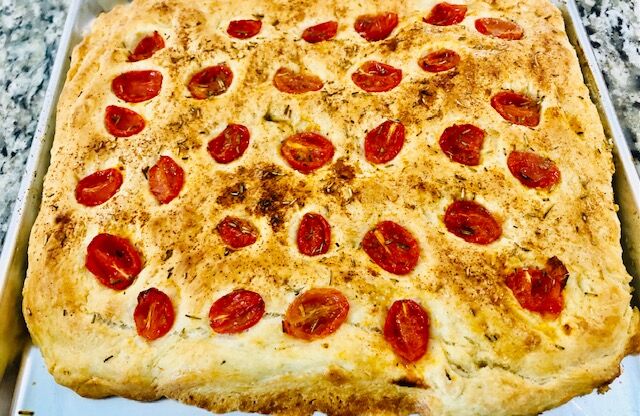 Tomato Focaccia with Garlic & Rosemary
Bread is my guilty pleasure, and it has to be perfect. What better treat than a prosciutto sandwich made with tomato focaccia with garlic and rosemary, eh? Fluffy, flavorful delight, 'nuff said!
I was on the hunt for tomato focaccia a few years ago and found that this delight is generally baked on weekends, so chances of finding them on weekdays is pretty slim around me.
I have had a great number of store-bought ones, from many great Italian bakeries. I have two issues with them, they tend to be extremely oily and often too thick. I set to develop my own recipe, many trials and errors, until I came up with the perfect one.
With this recipe, I portioned and controlled the thickness and cut down on the oil to the amount I like.
Mangia!
Ingredients
1

lb

all-purpose flour

4

tsp

active dry yeast

1

tbsp

sugar

1

tsp

sea salt

3

tbsp

olive oil

plus extra for kneading

1

tsp

dried minced garlic

5

oz

cherry tomatoes

halved

1 ½

tsp

dried rosemary

crumbled

1

cup

warm water

about 90 degrees Fahrenheit
Instructions
Pour flour in a mixing bowl and make a well in the center. In the well, add the yeast, sugar, and 1/3 cup of the water and gently mix with a fork and leave for a few minutes until the yeast has dissolved and starts to foam.

Add 2/3 cup of warm water, olive oil, and 1 tsp sea salt, stirring until the mixture forms a sticky dough. Knead for 5-10 minutes, adding a little extra oil if needed, until smooth and elastic. Shape the dough into a disc and transfer to a large, oiled bowl. Cover with a damp tea towel and set aside somewhere warm for 1 hour, or until doubled in size.

In a bowl, drizzle tomatoes with oil, toss to coat, then season and set aside.

Line a sheet pan with parchment paper and oil generously. Roll or press out the dough into a rectangle the size of the sheet pan or just slightly smaller. To do this efficiently, roll or press out the dough, stop and wait 5 minutes for the gluten to relax, then roll or press out again, and repeat until the dough reaches the right size. Cover with a damp towel and let rest for 30 minutes.

Using oiled fingers, make rows of evenly spaced dimples over the surface of the dough and press in the tomatoes. Sprinkle over the rosemary and dried garlic. Cover with oiled saran wrap and set aside for a further 45 minutes, or until doubled in size.

Preheat the oven to 425 degrees. Sprinkle a little sea salt over the dough. Put a separate metal tray on the bottom rack of the oven and carefully fill halfway with boiling water from the kettle. Bake the dough on the middle rack for 30 minutes, or until golden. Leave to cool in the tray for a few minutes. Drizzle with a little more oil before serving.