Zaatar Recipe In Toronto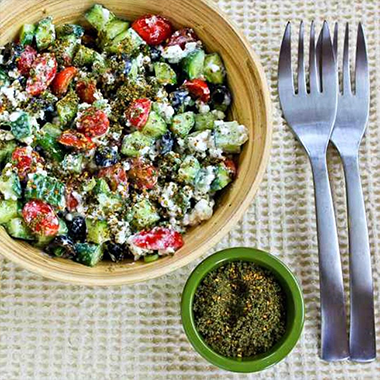 [vc_row][vc_column][vc_column_text]
Za'atar Recipe In Toronto
Za'atar is undoubtedly the most used and loved Arab spice in the Western world. Even though, it strictly translates to thyme in Arabic, most people use the word Za'atar when they refer to a blend of several Middle Eastern herbs and spices. As Middle Eastern and Arabic food has become popular worldwide, there has been an increase in the use of Za'atar in various dishes in Toronto. Today, many restaurants make use of Za'atar in different ways due to its versatile spice blend that tingles their taste buds.
There are many different recipes to cook Za'atar as every chef adds something different to the blend. However, there are some standard spices that are always present in a good Za'atar such a thyme, sesame seed, and sumac,while ingredients like cumin are mostly present but not always. Where some people prefer to make it at home, many others buy it from stores and small businesses.
Nazari's Touch has launched a line of premium spice blends and has kick started its line with three options. These include Za'atar Spice Blend, Taco Seasoning and Pulled Pork Dry Rub. Amongst our three amazing spice blends, Za'atar is indeed our top favorite. Our Za'atar spice blend is a perfectly made with balanced spices; little salt, lots of herbs, lots of sesame, lemon and sumac.
Food spots in Toronto have increasingly started using Za'atar in their recipes to give them a kick. Let's take a look at the Za'atar recipes and food that have become so popular.
Easy Guide on the Za'atar Recipe In Toronto
Kebabs or Chickens
Most Middle Eastern, Asian or even locals have started using Za'atar in their kebab and chicken recipes. This rub of seasoning by professional chefs or even by people cooking at homes give the meat a tangy and spicy kick that elevates the taste.
Adding Zest to Vegetables and Fruits
Eating plain vegetables can get boring especially for the people who have to do it over and over again because they are on a specific diet. Za'atar is now used to add a hint of zest to your everyday boring salads and fruit bowls, giving it so much more flavor than it originally has. Moreover, because it is a healthy option, people prefer using it over other processed things.
Sprinkle on Cheese and Yoghurt
Za'atar is a common breakfast food in many parts of Middle East and Arabia and seeing that people in this part of the world have also adapted to it. Za'atar has been increasing used to be sprinkled on cheese and yoghurt to balance the sweet with a bit of spicy. Undoubtedly this has become a perfect breakfast item served in many restaurants in Toronto.
Over the past couple of years the use of Za'atar in Toronto has rapidly increased. While no one exactly knows why there has been a sudden interest in Za'atar by the overall population, it is possible that this has happened because people have started exploring with their taste. Nazari's Touch with its premium Za'atar blend is aiming contribute to this growing taste. Visit our stores and see our premium blends for yourself![/vc_column_text][/vc_column][/vc_row]