Crispy Baked Chicken Fingers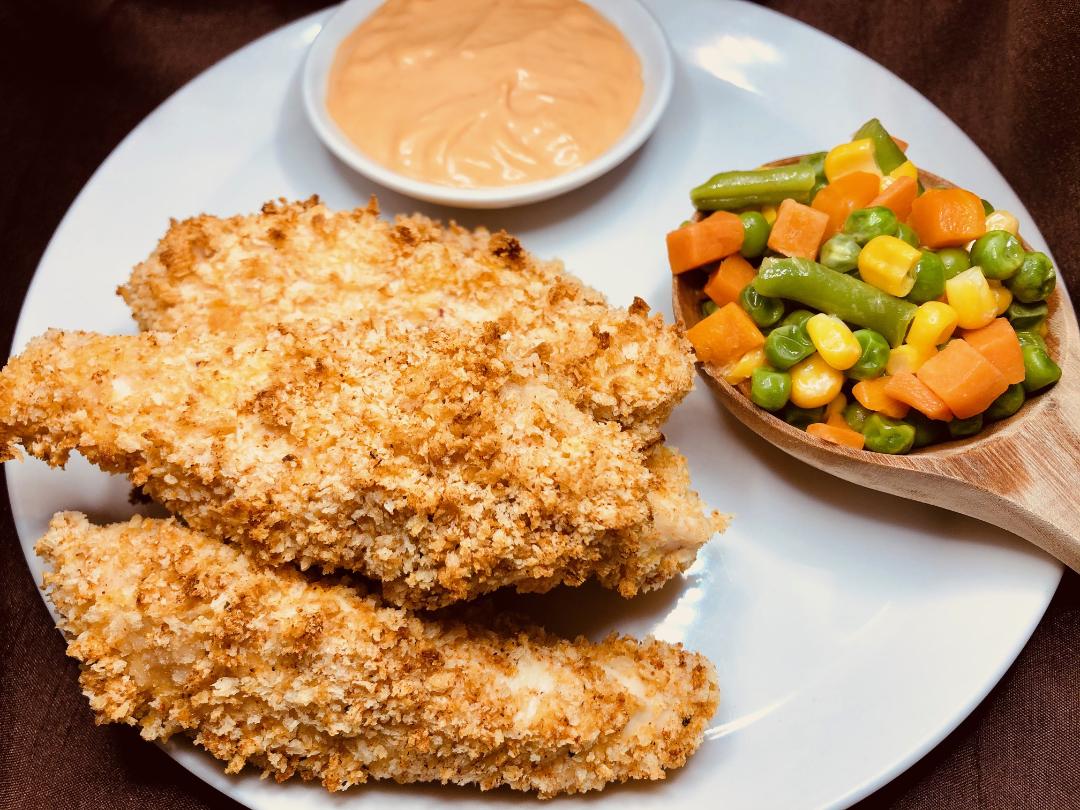 Gochujang Infused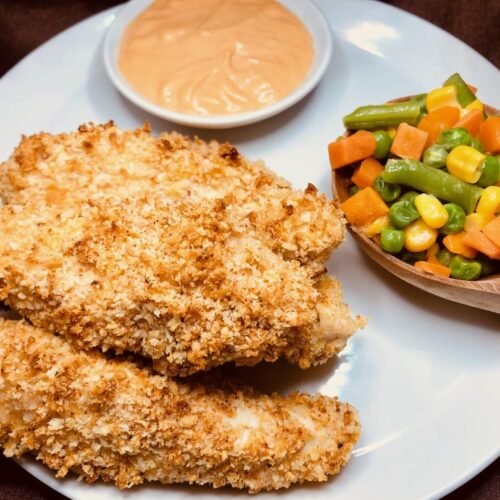 Crispy Baked Chicken Fingers - Gochujang-infused
I decided to twist this ever-popular favourite, giving it an infusion of Korean flavours. The general concept and method is simple and many of you have already baked chicken fingers. Best served crispy on the outside and moist inside. They go well with most sauces, quick to prepare and most kids will not fuss about it.
I love the fact that Korean culture has had such a massive impact on the culinary world and our day to day cooking, that you can find most key ingredients in any store talking about their flavours is a frequent topic.
This recipe follows the same guidelines of breading, with the exception of dropping the flour-dredging. I prefer the fingers lightly breaded and find the extra layer flour adds to be a bit much.
The gochujang paste adds great flavour and the Korean pepper flakes mixed with the bread crumbs adds a hint of spice. I hope you enjoy.
Ingredients
1½

lb

chicken breast strips

cut about 1 inch wide and 4-5 inches long

2

ea

eggs

1

tsp

Korean red pepper flakes

½

tsp

gochujang paste

1

tsp

salt

½

tsp

freshly ground black pepper

2

cups

Panko style bread crumbs
Instructions
If your oven only has a top element, use the bottom rack for this recipe. If it has both the top and bottom elements, use the middle rack.

Preheat oven to 375 degrees Fahrenheit.

Line a baking sheet with parchment paper. In a bowl, whisk together the eggs and gochujang until they are mixed well. In a separate bowl, mix the bread crumbs, salt, pepper and red pepper flakes to a uniform mixture

Dredge the chicken strips into the egg mixture to cover, then remove. Let the excess egg mixture on them drip in the bowl and then dredge them in the bread crumbs to cover all sides. Set each piece on the tray about ½ inch apart.

Set to convection and bake for about 20 minutes or until golden brown and crispy on the outside. Serve with your choice of sides and sauces.