Eggplant Beef Stew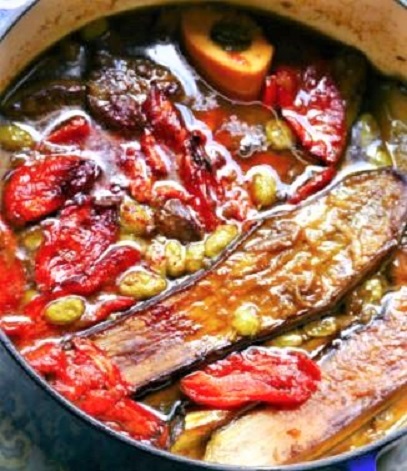 Persian Style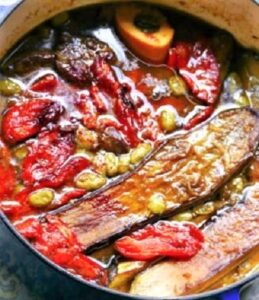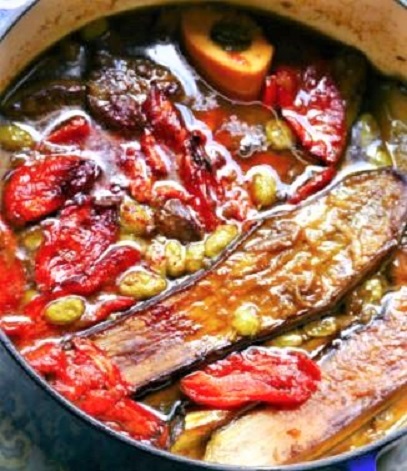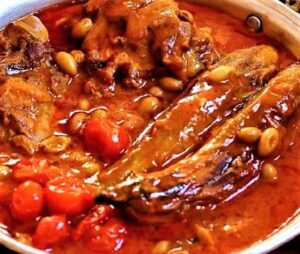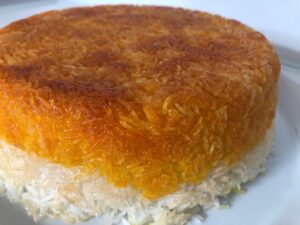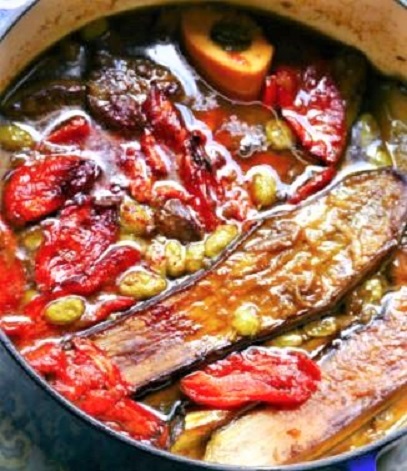 Eggplant Beef Stew - Persian Style
The eggplant beef stew is considered a staple in Persian cuisine. With a power ingredient like eggplants which can soak up any flavor and add such a punch to any recipe, the long cooking time is well worth the wait for savoring such a fabulous dish. The popularity of eggplant is growing exponentially and it has become a globally loved fruit in almost all cuisines.
Though the cooking time can be reduced using a pressure cooker or Instant Pot or the likes, I still prefer it old school.
You can get creative and make it a vegetarian plate with some hard tofu instead of the beef, and I have even made it with chicken. All in all, the eggplant is the star and will dictate the flavor.
There's also a difference of opinion as to whether add the potato or not. In my experience, the little bit of starch it adds to the pot gives it a boost of flavor.
The sour grapes can be bought at your local Persian or Middle Eastern store, but if none nearby, just sub it with some lemon juice. Remember, eggplants will do the job. It goes SO well over crispy rice (tahdig) or crispy fries! Give it a try.
Ingredients
2

lbs

stewing beef chunks

tri-tip works well

2

marrow soup bones

1

large onion, thinly sliced

1

cup

canola oil plus two tbsp

1

tbsp

onion powder

1

tbsp

garlic powder

1

tbsp

turmeric

2

tsp

salt

1

tsp

freshly ground black pepper

1

large tomato, sliced

or half cup grape tomatoes

½

cup

sour grapes

or juice of one lime

1

large potato, roughly chopped

6

small eggplants, peeled and stem removed

1

can

regular tomato sauce

about 400 ml or 13 oz

1

cup

beef broth
Instructions
In a large heavy pot, heat 2 tbsp oil on medium-high heat and saute the onions for 2-3 minutes until translucent. Add the beef chunks, turmeric, garlic powder, onion powder, salt, and pepper. Brown all sides and add the marrow bones and continue stirring - about 5 minutes.

Add the potato chunks, tomato sauce, sour grapes/ lime juice, beef broth and just enough water to cover the meat and other ingredients, bring to boil, then reduce heat and let simmer for about 1.5 - 2 hours.

Sprinkle the eggplant with a bit of salt. In a large pan, heat 1/2 of the oil on medium-low and allow the eggplant to cook, regularly turning them so the color is consistent. As the oil gets absorbed, gradually add more oil and cook until the eggplant is light brown on all sides - add more oil if required. Remove to parchment-lined plate.

When meat is cooked for about 1.5 - 2 hours, lay the eggplants on top of them in the pot and gently press them down to submerge. Cook for an additional 1.5 - 2 hours and then serve on rice, fries or on its own.