Fusion Chicken Kebab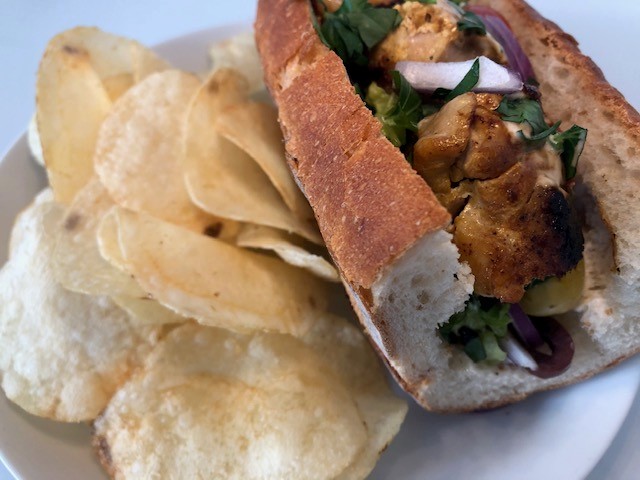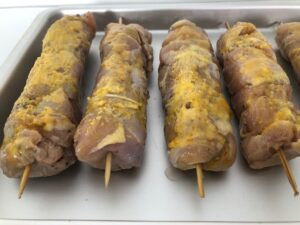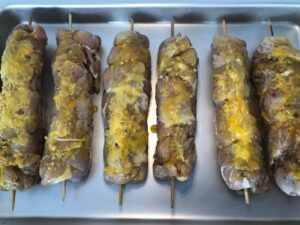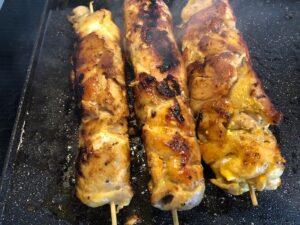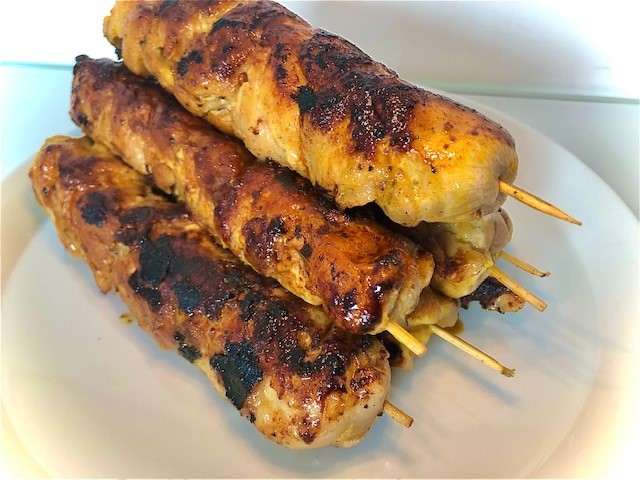 Fusion Chicken Kebab
We've been exposed to chicken kebabs since childhood and most of the time we end up doing the same Persian style marinade with onions, lime or lemon juice and saffron. Every once in a while we change it up a bit and add a spice here and there, but when I came up with this fusion marinade and baste, the reaction was priceless.
It combines elements of the traditional Persian kebab marinade with a bit of Mediterranean and other Middle Eastern countries. It is easily modifiable to your taste to lean towards one region or another.
Enjoy it over rice or make a sandwich, whichever you prefer. My kids' favourite is doing it in an Italian baguette sandwich with this chicken, lettuce, parsley, red onions, tomatoes, olives and pickles.
Ingredients
3

lbs

chicken thighs

boneless, skinless

4

tbsp

freshly squeezed lemon juice

separated

3

tbsp

olive oil

extra virgin

1

ea

large onion

1

ea

small onion

2

tbsp

butter

unsalted, melted

½

tsp

turmeric

1

tsp

paprika

½

tsp

ground cumin

½

tsp

dried oregano

½

cup

plain yogurt

4-5

tbsp

water

boiling

a few strands of saffron

salt & pepper
Instructions
In a small cup, add the boiling water and drop the saffron strands in it. Let it sit for 15 minutes until the saffron ferments and gives the water a vibrant reddish orange colour. Stir occasionally until the colour solidified.

Cut the chicken into 2 inch pieces.

Add 2 tbsp of the lemon juice to the saffron cup along with a pinch of salt and pepper, stir to dissolve the salt.

In a bowl, mix the olive oil, sliced onions, chicken, turmeric, paprika, cumin, oregano, yogurt and half of the saffron mixture. Mix all ingredients well until every piece of chicken is covered well. Transfer to a plastic bag, empty as much air as you can and seal it. Let it marinate for at least 12 hours.

In a food processor, pulse the small onion until it is completely mushed.

Add the other half of the saffron mixture to the melted butter, along with the processed onion and all the liquid in the processor bowl. As this will be your baste, you can refrigerate it but make sure to warm it up slightly before grilling and basting.

When ready, skewer the chicken using metal or wooden skewers and Grill on the BBQ grill or do it stovetop on a grilling skillet. Use medium to high heat, baste and turn the skewers frequently for at least 20 minutes or until done. The speed of doneness will depend on the thickness of the chicken pieces as well, and because of the nature of the marinade and baste ingredients, it may turn dark quickly, so be patient so the chicken cooks throughout.