Golden Fried Cornish Hen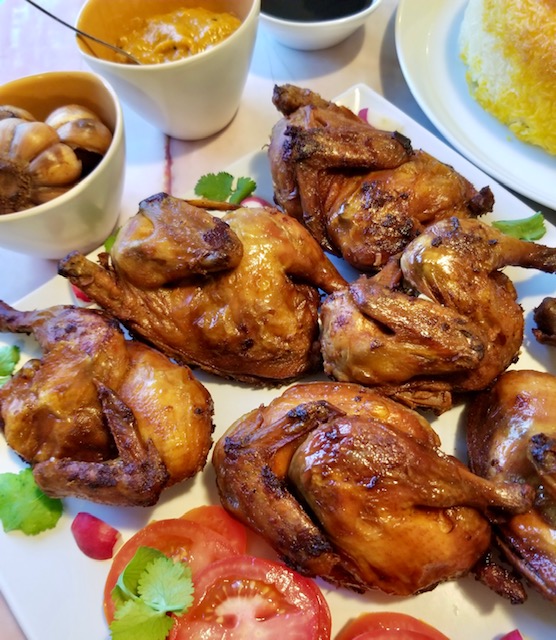 (Akbar Joojeh)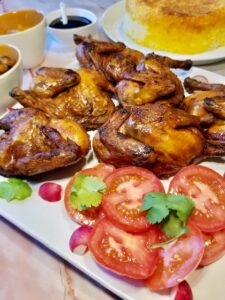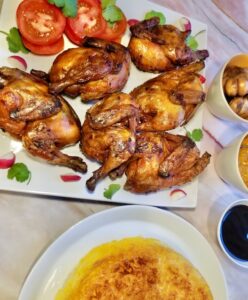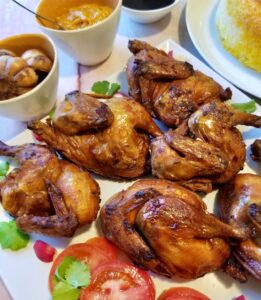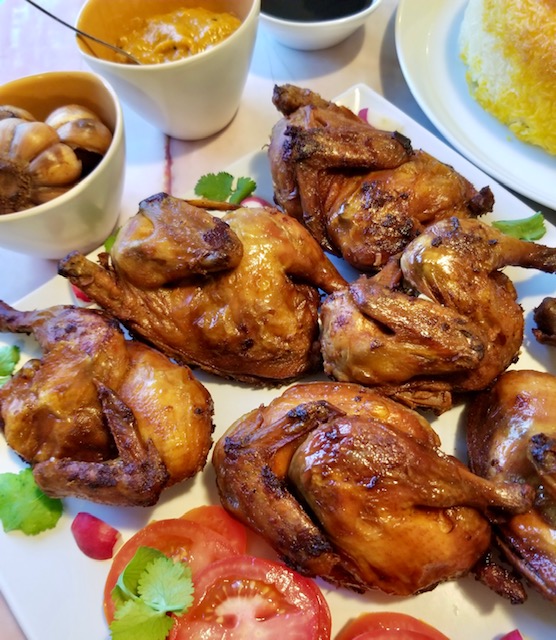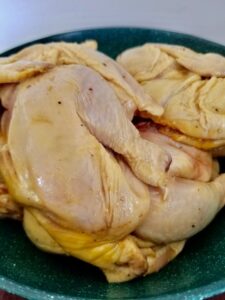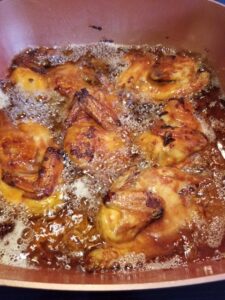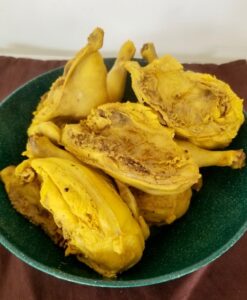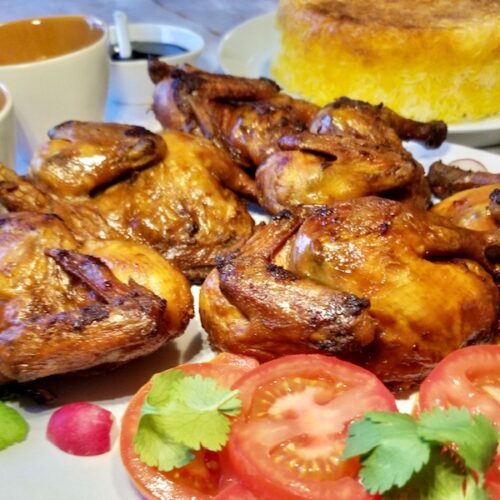 Golden Fried Cornish Hen (Akbar Joojeh)
The golden fried Cornish hen, which is accompanied by pomegranate molasses or paste, is considered a feast, not only because of its unique and fantastic taste, but because it is very time-consuming and beyond the patience of most. It is more of a restaurant dish, however, as I always say, if you can make it, do it!
There used to be a restaurant in town that served it, but it seems to have closed down, so I got to work and perfected the recipe.
The overnight marination steps are key to the flavor, and the extended frying time creates the seal, taste and texture, guaranteed to make you devour an entire Cornish hen. Once again, simple ingredients creating an astounding tastebud revolution.
Ingredients
3

Cornish hens, butterflied, then cut in half

ending with 6 half cornish hens

1

large onion, quartered

3

strands

saffron, powdered with mortar & pestle

3

tbsp

butter

juice of 1 ½ lemon

1

tbsp

olive oil

1

tbsp

turmeric

1

tbsp

ground ginger

2

tsp

salt

1

tsp

ground pepper

cooking oil
Instructions
Boil ¾ cup water, add ground saffron and let sit for 20 minutes. In a bowl, combine 2 tbsp saffron water, olive oil, 1 tsp salt, ½ tsp pepper, and lemon juice. Rub mixture on all Cornish hen halves, massaging the marinade into the flesh. Transfer to ziplock bag, remove air, seal and refrigerate overnight.

Bring a large pot of water to boil, lower temperature to medium. Add turmeric, ginger, onion, 1 tsp salt, ½ tsp pepper and place the half-hens skin side down into the pot. Boil for exactly 10 minutes, then move to a plate using a slotted spatula.

In a large heavy pot that can fit the hen halves in one layer, add about ½ inch of oil, the remainder of the saffron water, and butter, turn on heat to simmer mode to melt the butter. Stir to mix butter with oil, then place hens in the oil, skin side down. Add oil till the surface reaches about ⅔ the thickness of the hens. Increase heat to medium until oil comes to a rolling boil, then reduce heat to medium-low. Cook for 1½ hour or until bottom sides are golden. Flip over gently with a slotted spatula, cook for an additional 1½ hour.

Flip over to skin side down gently, and cook for an additional 5 minutes, remove to a paper towel-lined plate, cool down for 5 minutes and serve.