Mini Lemon Tarts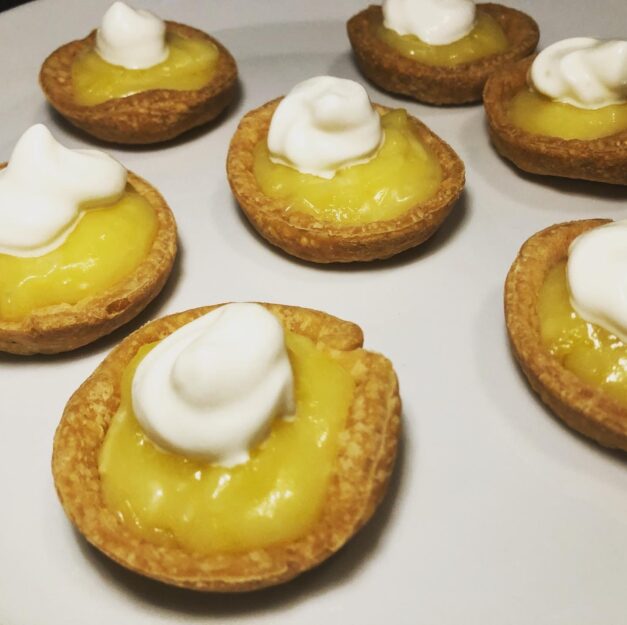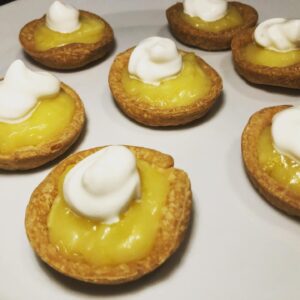 Mini Lemon Tarts
I worked up this recipe by fluke. One day I was clearing out the kitchen and realized I have too many lemons, some about to go bad soon. I looked up recipes with lemon, and came across one for lemon curd. 
My kids aren't into pies much, but I thought a tart with a twist of whipped cream on top should probably tickle their fancy. I was blown away when the entire family devoured the tray in a blink... and I was thankful I had hidden one for myself.
This recipe yields 18-22 mini tarts depending on which size you choose.
Equipment
One or two regular muffin trays
Ingredients
⅓

cup

fresh lemon juice

3

tsp

grated fresh lemon zest

⅓

cup

sugar

4

ea

large eggs

1

ea

box pie dough thawed to room temperature

I used Pillsbury's pie crust which comes in two rolls in a box

1

cooking spray

Whipped cream

premade or homemade - quick homemade recipe below

1

cup

heavy cream (if making homemade whipped cream)

35% fat. Nowadays lactose-free heavy cream is also available.

1⅓

tbsp

granulated sugar

this is the sugar used for icing

½

tsp

vanilla extract

pure
Instructions
In a medium sized saucepan on medium-low heat,  whisk the lemon juice, zest, sugar, and eggs. Stir in the butter, lower to low heat once melted, whisking frequently.

This will take about 8 minutes or so, and needs constant whisking so don't take your eyes off of the pot, it could clump very quickly. 

Once you feel the curd is thick enough to hold shape when you lift the whisk and you see the first bubbles appear on the surface, remove from heat and transfer it to a bowl. Let it cool down for a few minutes, then cover and refrigerate for at least an hour.

Preheat oven to 425 Fahrenheit (200 Celsius). 

Spray two regular muffin trays with oil lightly. If you only have one tray, you can do this part in batches.

Roll out the pie crust on a clean surface very gently. Using a 3-inch (about 7.5 cm) diameter, starting from the outer side of the circle, press down on the dough to create a circle dough. Remove the small circle gently and place at the bottom of one of the muffin wells and shape it gently so that it creates a mini plate at the bottom. If you prefer a higher wall on your tart shells, use a 4-inch (10 cm) diameter cup to cut and shape the circles. 

Once all mini shells have been placed in the muffin tray, cook for 20 minutes or until golden brown. Remove from oven and cool down for a few minutes, then remove them from the tray and let them cool down on a rack until they reach room temperature.

Removing them should be easy with no sticking at the bottoms. If there i any resistance in removing them, slide a thin knife around the circumference, between the shells and the tray.

Once cooled down, they are ready for assembly and indulgence. Fill each shell with as much curd as you like, and twist some whipped cream on top of each. 

Applying the whipped cream might be easier with the likes of a Gay Lea Whipped Cream canister. If that is not your cup of tea or you would prefer a lactose-free cream, or simply prefer homemade, here's a quick recipe:

Using an electric mixer with a whisk (or if you have the patience and endurance, just a hand whisk), whip the cream, granulated sugar and vanilla extract in a bowl for about 3-5 minutes or until the foamy cream thickens and can hold shape. You can cover and refrigerate the cream for a day or two. 

I hope you enjoy as much as we did!