Persian Potato Salad (Olovieh)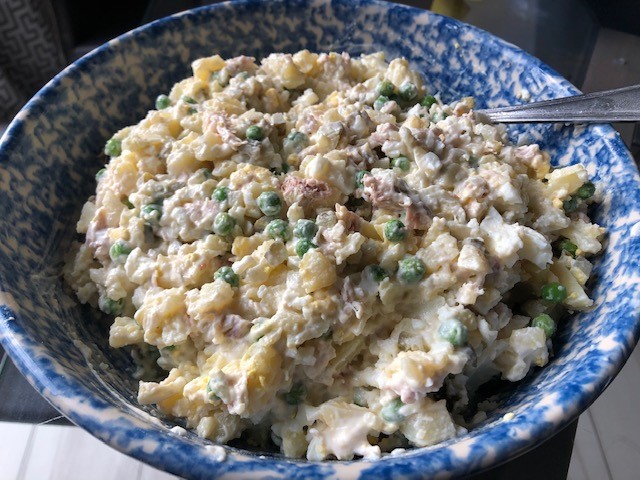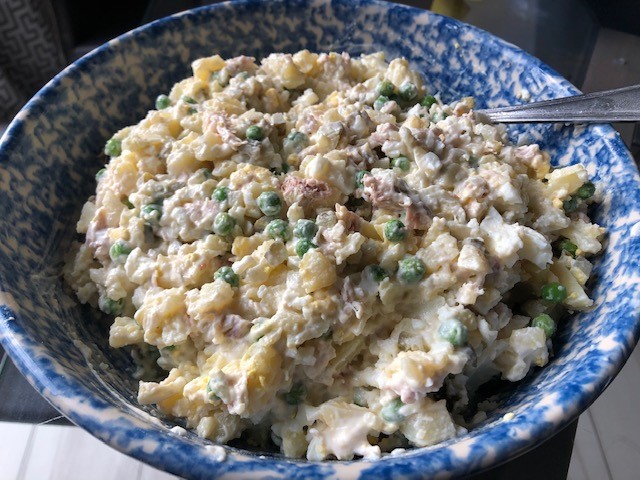 Persian Potato Salad (Olovieh)
This salad is quite popular amongst Persians and you would probably see it in most evening and dinner gatherings. It and can be found packaged in most Persian grocery stores but it is simple, and best made fresh. Have it on its own, or make a baguette sandwich with this salad, some greens and your favourite hot sauce!
Ingredients
4-5

ea

medium potatoes

white or yellow flesh

5

ea

large eggs

2-3

ea

savory pickles

similar to Strub's

1

cup

sweet green peas

frozen or fresh, not canned

2

ea

boneless skinless chicken thighs

juice of half a lime

add more if desired

½

cup

mayonnaise

add more if desired

½

tsp

garlic powder

salt & pepper to taste
Instructions
Start by washing and then boiling the potatoes, adding a pinch of salt to the water, and let them cook until you can put a fork through easily, but with just a touch of force.

I prefer boiling them skin-on, and once cooked, drained and cooled down under cold water, I use a serrated knife to just scrape off the skin.

While the potatoes are boiling, cook the chicken by just putting the pieces in a small pot, adding a hint of seasoning and adding a cup of water, bringing it to a boil and then simmering for 25 minutes. Once done, remove from heat and cool down.

In a separate pot, the eggs for about 4-5 minutes after the water has come to a rolling boil, then cool down under cold water and peel the shells. A quick boil will keep the yolks brighter in colour - even though we will only use two yolks for this recipe.

Finely chop the pickles. Sweet pickles tend to not fare well with this combination, hence the savory ones are used for this recipe.

If your peas are frozen, thaw before adding to the salad.

Chop the potatoes into small pieces of about ¼ inch cubes and don't worry if they break apart, it's all good, they will get a bit mashed up when mixing anyways.

Slit the side of 3 of the eggs and gently remove the cooked yolks. Youcan use them for other recipes - one of which are included in my recipes.

Using the back of a fork, mash the 3 egg whites and two whole cookedeggs to bits. the smaller the bits the better they meld into the salad andenhance the flavour. The higher egg white to yolk ratio makes the salad muchsilkier.

With your fingers, shred the cooked chicken into small bits, make them as small as your fingers can squish them.

We're ready to mix all the ingredients! In a large bowl, mix the chopped potatoes, mashed eggs, chicken bits, chopped pickles and peas. Add about 1/2cup of mayonnaise, juice of half a lime, salt and pepper to taste and stir the ingredients so that the mayonnaise coats everything.

I hope you enjoy thiss alad, let me know what you think!

Let it sit for 30 minutes for the potatoes to absorb the mayonnaise, then serve.