Romesco Sauce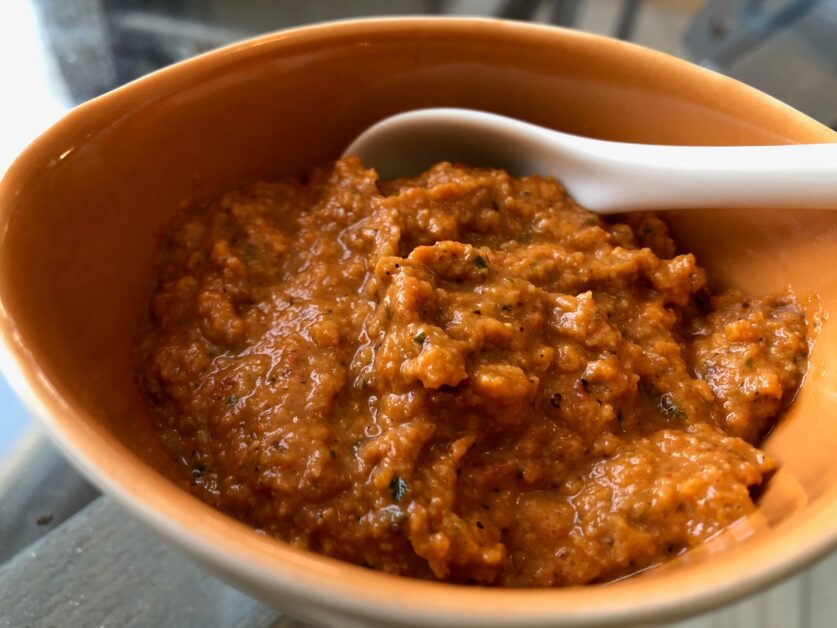 Romesco Sauce
One day I was searching online to see if there are any stores nearby that sell Romesco. After hours I couldn't find any local stores so I thought why not make it myself!
Romesco is a very versatile sauce, originating from Catalonia, Spain, generally used with fish but in time people realized it is so versatile that it goes well with pretty much any type of food. I remember having it at authentic restaurants during my trips to Spain, and once I asked for a side of it to just spread on my bread. The unique blend of flavours and nuttiness makes it one of the best go to sauces for any dish. A Spanish friend's mother once walked me through the steps many years ago.
Almost all the recipes I looked up were missing one key ingredient, the caramelized onions. I cannot imagine it without the onions, I assume the original recipe changed as it migrated to the west. 
Ingredients
10

oz

Jar of good quality roasted red peppers

drained

3

each

medium sized tomatoes

quartered

2

oz

thick slices of stale or lightly toasted baguette

about two thick slices

1½

tsp

red pepper flakes

2

ea

large white onions

thinly sliced

3

ea

large garlic cloves

peeled

¼

cup

roasted almonds

unsalted

¼

cup

roasted hazelnuts

skinned and unsalted

¼

cup

extra virgin olive oil

2

tbsp

extra virgin olive oil

1½

tsp

fresh flat parsley, chopped

1

tsp

smoked paprika

2

tbsp

red wine vinegar

salt & pepper to taste
Instructions
In a heavy saucepan, sauté the onions with the 2 tbsp. olive oil over medium/ high heat. Stir occasionally until golden brown and caramelized. Remove from heat and cool down.

Pulse the garlic cloves in a food process fitted with the regular blade. Once gloves are chopped to tiny pieces, scrape off them off and move to the center of the processor bowl.

Add the almonds, hazelnuts, pepper flakes and bread to the bowl and process until a paste is formed. This part needs patience as it could take a few minutes until it thickens into a paste.

Scrape off the sides of the bowl and add in the caramelized onions, red peppers, tomatoes, parsley, paprika, salt and pepper. Continue processing until the mixture is smooth and while it is running, add the vinegar and then slowly drizzle in the 1/4 of olive oil and thinning it out as much as you desire. You don't need to use all the oil if you feel the sauce's thickness is to your liking.

Let it sit at room temperature for at least an hour for all the flavours to blend better.

Spread it over chicken, fish, a crostini, or be adventurous like my kids and mix it with your rice and stew. Hope you enjoy, buen provecho!