Skirt Steak with Lemon Paprika Sauce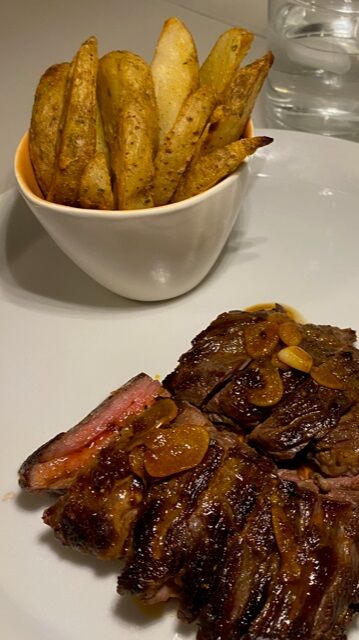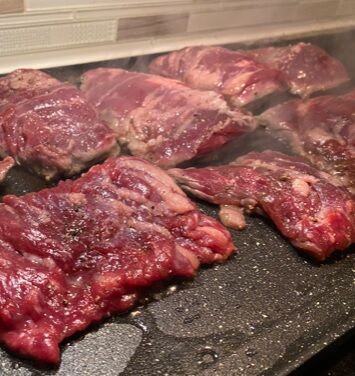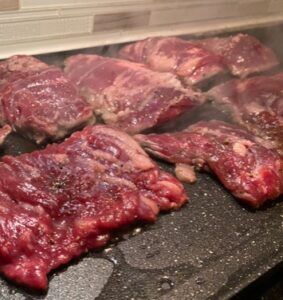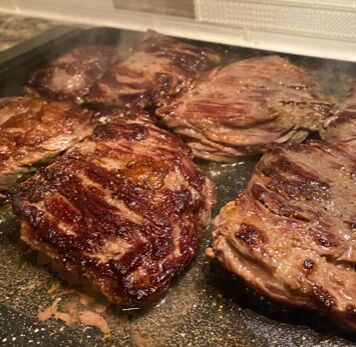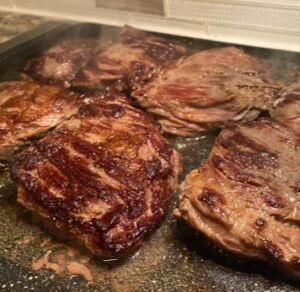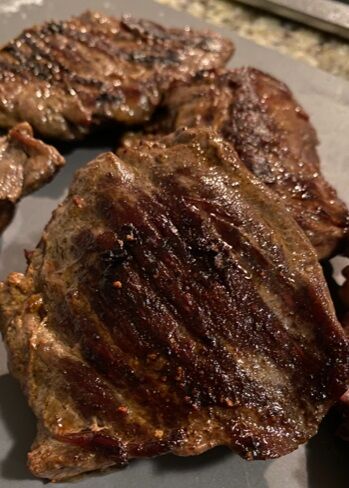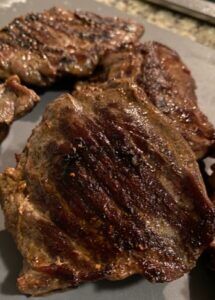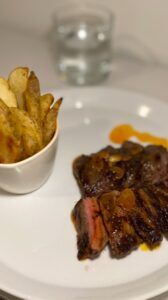 Skirt Steak with Lemon Paprika Sauce
Skirt steak doesn't get enough credit. It packs a huge flavour with its perfectly nice fat lines. I have worked with a variety of recipes and come up with this one as the best I can do.
I've had a similar dish at a Brazilian restaurant. I added and tweaked a few things. My kids hadn't tried it but once this recipe was served, I heard two pleasing comments. One was from my wife that said she would choose this over a filet mignon any day. The other was from the boys saying they will never forget this taste. The sauce is what did it, with just enough kick and acidity.
Keep in mind that you would need a better quality skirt steak, about an inch thick and a nice fat lines.
I hope you enjoy it as much as we did.
Ingredients
1

stick

butter

unsalted

8

cloves

garlic

smashed, then roughly chopped

2

tsp

smoked paprika

3

tbsp

lemon juice

freshly squeezed

6-7

lbs

skirt steak

good quality, about one inch thick

vegetable oil for rubbing

salt & pepper

1

tbsp

fresh parsley leaves

finely chopped
Instructions
In a small saucepan, melt the butter. Add the garlic and cook over low heat, stir until the garlic turns golden and aromatic. Add the smoked paprika and cook for about a minute until fragrant. Turn the heat to the lowest setting, stir in the lemon juice, add the parsley and just a hint of salt.

Cut the skirt steak to 12 inch long sections to ease the grilling. Rub the pieces with the oil on both sides as you season and rub the seasoning into the meat with the oil.

If you have a large grill or grilling skillet that could sit on two heating elements, you can grill all the meat at once, otherwise, do it in a couple of batches.

Heat the skillet to high heat (level 7 on an electric stovetop would suffice) and drizzle it with oil. Once scalding hot, grill the skirt steak pieces until nicely charred and medium-rare, about 3 minutes per side. Transfer the steaks to a cutting board and let rest for 5 minutes.

Slice the steak at an angle but with the grain - around ½ inch thick pieces. Spoon the paprika parsley butter over the steak and serve right away. Enjoy!