Spaghetti Marinara + Cotenne (Italian Pork Skin Braciole)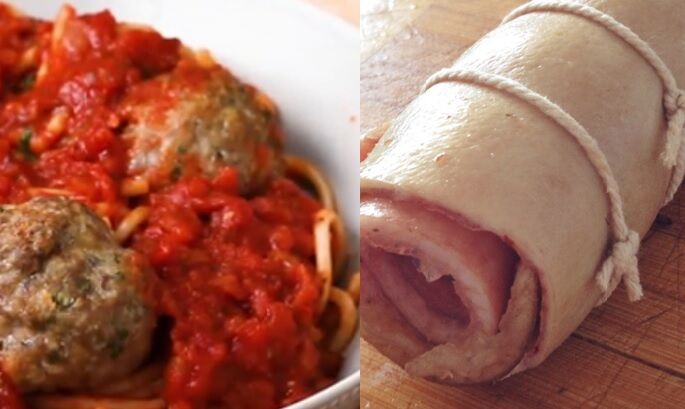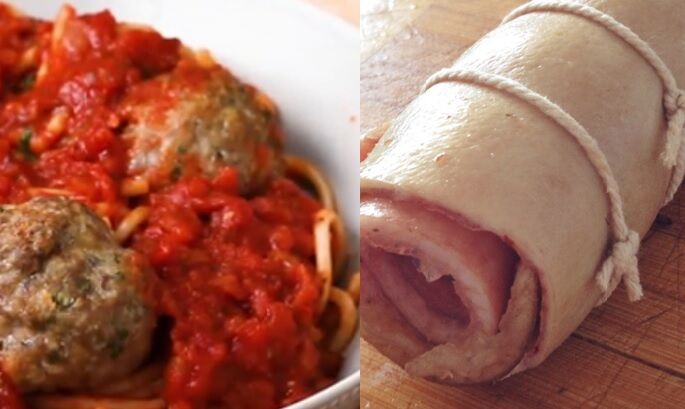 Spaghetti Marinara + Cotenne (Italian Pork Skin Braciole)
I think we've all tried multiple recipes for spaghetti and meatballs, looked up dozens of recipes and tried a variety of combinations to come up with that perfect marinara.
This recipe has become my go to when the kids ask for spaghetti and meatballs, with a delicate twist of adding the Cotenne to the marinara for myself. I was introduced to Cotenne by my best friend who always talked about it when he spoke about pasta and Italian cooking.
The kids call the meatballs MOAMs - mother of all meatballs. They love the texture and flavour and raid the tray as soon as it comes out of the oven so I always make extra.
I will start with the marinara, then the Cotenne - which is of course optional, and finish off with the meatball recipe.
This recipe will yield about three large mason jars of marinara. Since the demand for this dish is high and you're putting all this time and effort into it, might as well make more. It can be refrigerated for about 2 months and still taste fabulous.
Ingredients
6

ea

large onions

thinly slices

14

cloves

garlic

minced

5.5

oz

can tomato paste

2

tsp

red pepper flakes

1

tbsp

garlic powder

1

tbsp

onion powder

2

tbsp

oregano

dried

2

tbsp

basil

dried

2

tbsp

parsley

dried

3

cans

28 oz crushed tomatoes

fire roasted recommended

2

tbsp

olive oil

extra virgin

4

slices

bacon

cut into small pieces

4

pieces

trimmed pork skin

cut into 6-8 inch squares

1

handful

fresh parsley or cilantro leaves

1

tbsp

parmesan

finely grated

salt & pepper

1

tsp

olive oil

extra virgin
Instructions
In a large heavy pot or Dutch oven, heat the olive oil on medium/ high heat and sauté the onions, garlic and crushed red peppers for a minute, then add the bacon and continue until the mixture turns golden brown.

Then we use a technique I learned called pinçage, which is adding the tomato paste and continuing to sauté until the mixture turns dark red and very aromatic.

Add the crushed tomatoes, onion powder, garlic powder, dried herbs, a teaspoon each of salt and pepper, stir till mixed well, then cover and lower to simmer for four hours.

Cool down, use as much as you need and refrigerate the rest in mason jars.

As the pot starts to simmer, start preparing and assembling your Cotenne. The fat left on the pork skin should be absolutely minimal, otherwise it will not only make the marinara too oily, it will become soggy itself. Check and trim more as required.

Flatten the pieces and place them on a board fat side up, and dip your finger in the 1 tsp of olive oil and run it on the fat side of the skins to coat the entire surface of each piece lightly.

Sprinkle each with salt, pepper and parmesan cheese. Put a few parsley leaves in the middle of each piece, then roll them up as tightly as you can and tie around them with kitchen twine.

Place them in the marinara and let it simmer for four hours. When done, you can eat them or slice them and keep in the marinara and enjoy smaller pieces with each serving.