Succulent Meatballs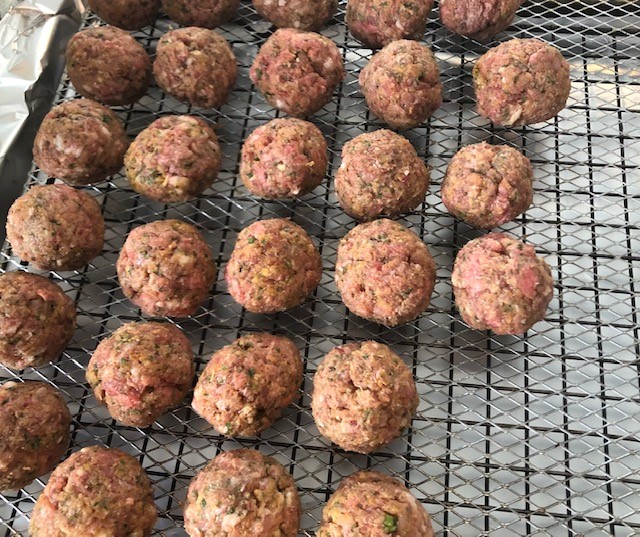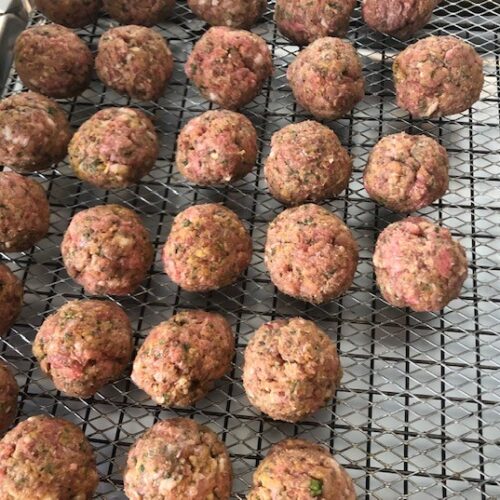 Succulent Meatballs
This is a recipe I have worked on throughout the years trying to please a wide audience ranging from young kids to very picky adults. It seems I have finally reached a point where everyone has come to like this recipe and I am regularly asked to make them again.
The kids call the meatballs MOAMs - mother of all meatballs. They love the texture and flavour and raid the tray as soon as it comes out of the oven so I always make extra.
Some recipes add a cup of ricotta cheese, but I prefer the texture without it.
Ingredients
1

lb

lean ground beef

1

lb

lean ground pork

1

ea

large onion

grated

4

cloves

garlic

pressed

1

cup

bread crumbs

¼

cup

fresh parsley

finely chopped

2

ea

eggs

beaten

2

tsp

garlic powder

2

tsp

onion powder

½

tsp

turmeric

½

cup

parmesan

finely grated

salt & pepper to taste
Instructions
Preheat the oven to 425 degrees Fahrenheit (220 Celsius). In a large bowl, mix all the ingredients above well.

Line a baking sheet with foil. Lightly spray a mesh rack or cooling tray with oil (so the meatballs don't stick), and shape the mixture into 1 1/2 inch(about 4 cm) balls and place on the rack with just a touch of space in between them.

Bake for 20 minutes or until the outsides are browned and the fat has rendered at the bottom of the tray.

If using fresh, toss your favourite type of cooked pasta (ours is just spaghetti) with marinara and add the meatballs. Check out my marinara sauce recipe which would accompany the meatballs amazingly well.

If storing for later use, cool them down on a baking rack, and freeze them in a single layer inside a freezer bag. Buon appetito and hope you enjoy!