Chicken Shawarma (Syrian/ Egyptian Style)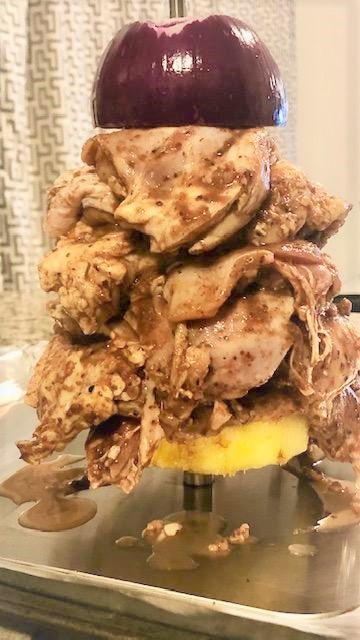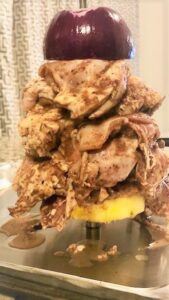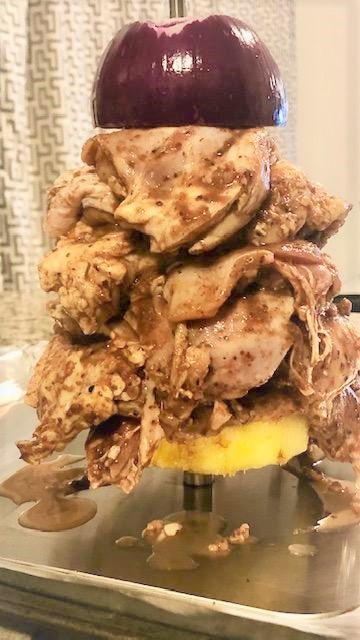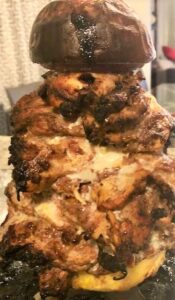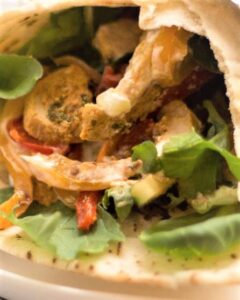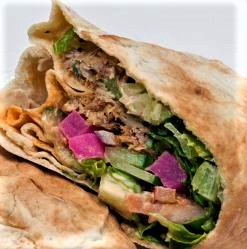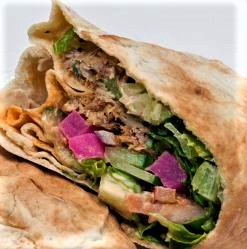 Chicken Shawarma (Syrian/ Egyptian Style)
This is a fun shawarma recipe to prepare and let marinate during the day, then cook and assemble with the family at dinner. I personally let it marinate overnight. Shawarma in my opinion, is one of the most delicious and exciting foods. You can have it on rice, salad or wrap it with any combination of vegetables, fruits (as you know tomato is a fruit) and condiments.
This recipe is a bit different than the mainstream flavours, which are predominantly derived from the Lebanese recipes and methods. They usually call for powerful spices like allspice, cloves, nutmeg or cinnamon. Since the majority of the restaurants use these combinations, we often think it is the only way it should be made and taste.
It was just recently when I picked up some notes and tips about the Syrian/ Egyptian spice blend, which is not only completely different, but has become our preferred flavour for shawarmas. The perfect blend of sumac, cumin, coriander, paprika and oregano gives it such a powerful punch that I doubt you will go back. It works well for chicken, beef or lamb.
The cooking method is simple. I used an upright spit contraption I found on Amazon.ca:
https://www.amazon.ca/gp/product/B08JQNFKJ5/ref=ppx_yo_dt_b_asin_title_o08_s00?ie=UTF8&psc=1
However, it is not necessary. You can simply cut your chicken into smaller pieces, pan sear them on high heat and then shred them. Or if you are determined to cook in the oven, cut a very large onion in half, set it on a tray flat side down like a dome, then insert a wooden skewer into the center of it from the top, dull side down and press all the way till it hits the tray. Voila! Your upright skewer is ready, but don't tower it up too high.
It is customary to add tahini, hummus or garlic sauce on top for the other variety, but for this recipe, only the garlic sauce is recommended, for which a link to my recipe is provided below. Enjoy!
Ingredients
3

lbs

boneless, skinless chicken thighs

about 8-10 large thighs

10

cloves

garlic, pressed

2½

tbsp

sumac

1

tbsp

cumin

1½

tbsp

ground coriander

1

tbsp

dried oregano

1½

tbsp

paprika

1

tbsp

salt

½

tbsp

freshly ground black pepper

½

tbsp

red pepper flakes

½

cup

white vinegar

1

cup

water

2

tbsp

tomato paste
Instructions
In a large bowl, whisk all the marinade ingredients well. Once combined, add in the chicken and mix well with the mixture to cover every piece and crease. Cover and refrigerate for at least 6 hours.

If using an upright skewer/ spit, heat the oven to 375 degrees Fahrenheit. Skewer down the thighs one by one, pressing them onto the previous piece and making sure the you are maintaining a cone shape for stability. Place the upright skewered chicken on the bottom rack and set to cook on convection for about 35 minutes or until the outside layers are browned. Remove tray and shave off the cooked layer with a sharp knife and enjoy with your favourite toppings.

Return the tray to the oven to cook the inner layer, which by this time is almost fully cooked and should take about 10 minutes to cook well and brown.

If using a skillet, heat it up to medium-high temperature and sear the thighs, turning them frequently until they are browned on the outside but soft and cooked on the inside - about 6-8 minutes on each side. Remove from heat and let rest for 5 minutes, then cut to pieces and enjoy.

Alternatively, using an outdoor barbecue grill would also yield excellent results and texture.
The link to my simple garlic sauce recipe:
https://www.nazari.ca/simple-three-ingredient-garlic-sauce-delicious-and-versatile/