Pan Seared Pork Tenderloin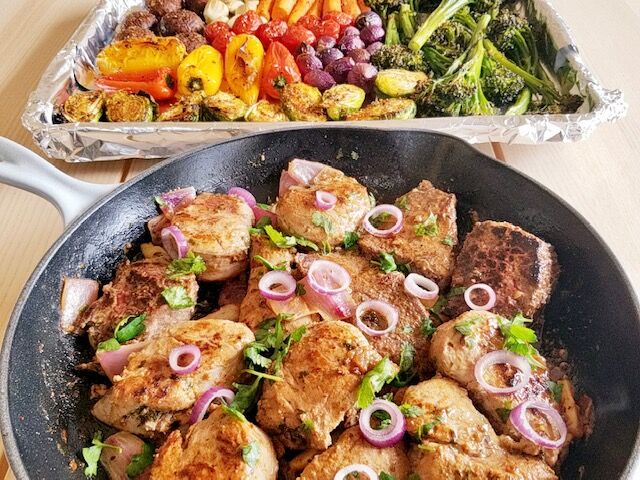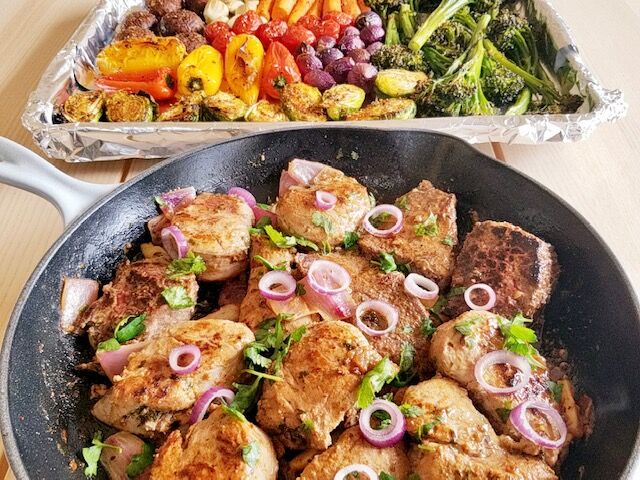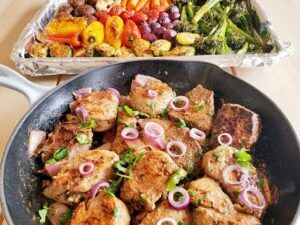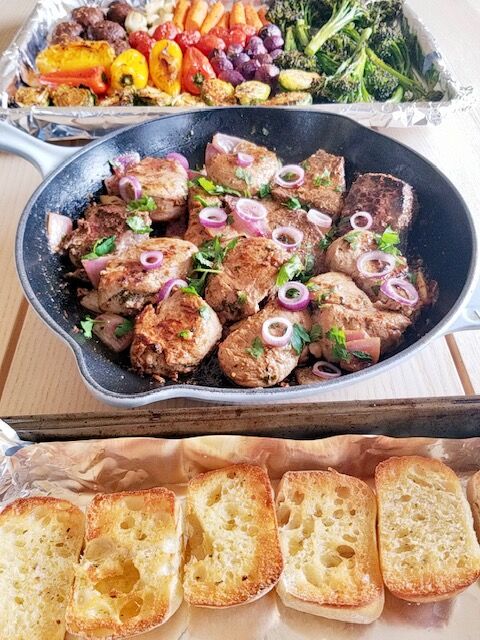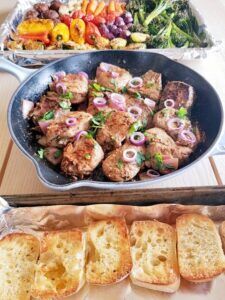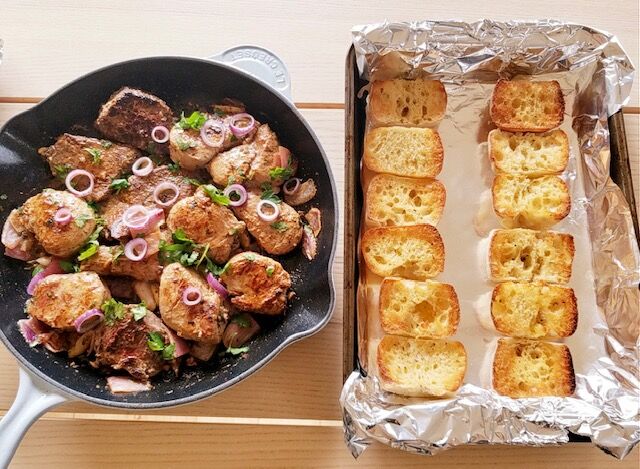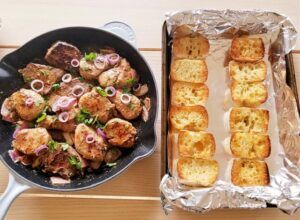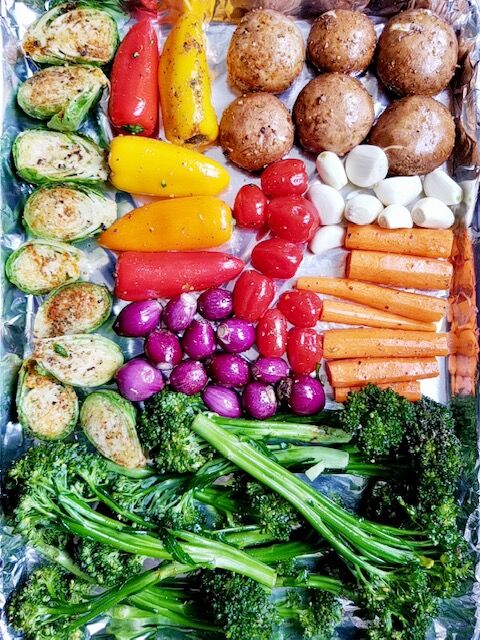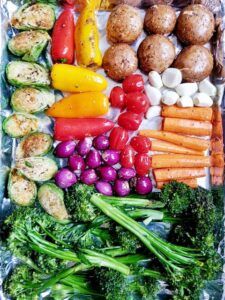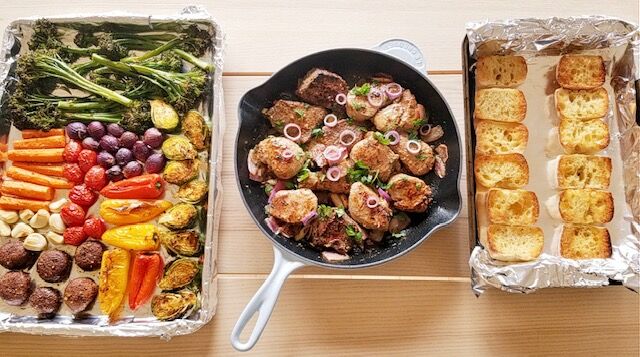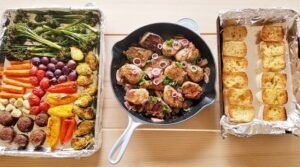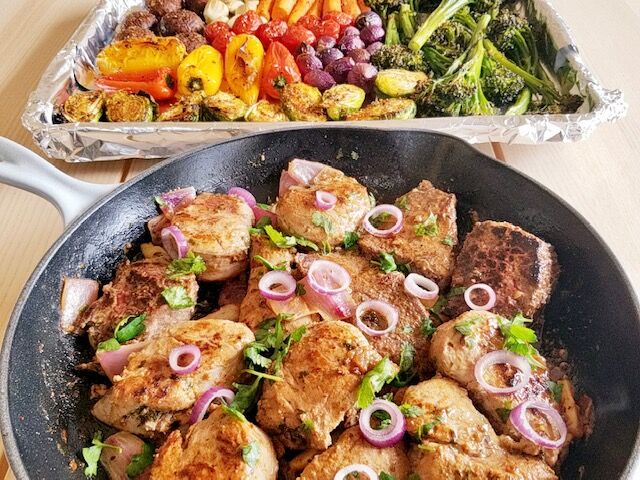 Pan Seared Pork Tenderloin
One of the most versatile, yet neglected cuts of protein is the pork tenderloin. Because of its low fatty content/ marbling, many decide to opt for a different cut, thinking that it will turn out too dry. That is true if you overcook it, but this beauty is like a sponge.
It can so many flavors and cooked right, it'll surprise you with its tenderness. I find that marinating pork tenderloin cut into medallions (about 1 in. thick) yields the best result.
At first I was thinking of bacon-wrapping them, then I decided to whip up a marinade and let it do its magic overnight.
While pulling out ingredients, I realized that I had a variety of gorgeous vegetables that I had just bought and decided to do a roasted veg tray. Fresh broccolini, sweet peppers, mini red onions, gorgeous Brussel sprouts, carrots, cremini mushrooms, and a few garlic cloves, all rubbed with olive oil, sweet tomatoes, tossed with salt, pepper, oregano leaves, and paprika.
The pork was pan-seared in a scalding hot Le Creuset cast iron pan, about 4-5 minutes on each side, and the marinade from the bag was drizzled on during the searing.
Make sure to poke a lot of holes in the medallions to absorb the flavors.
It all turned out to be a massive keto-friendly spread (less the garlic bread for the boys, of course), and everyone loved the not-mushy veg – they were broiled perfectly on the top rack at 485 F and checked on very regularly.
Ingredients
Zest of one large lemon

Juice of one large lemon

Juice of half a lime

1 ½

tsp

dried oregano leaves

2

tsp

paprika

1 ½

tsp

salt

½

tsp

freshly ground pepper

2

tsp

Montreal steak spice

1

tbsp

olive oil

1

tbsp

cooking oil

2

tbsp

plain yogurt

1

large onion

chopped

2

whole pork tenderloins - trimmed
Instructions
Cut the whole pork tenderloins into 1 inch thick medallions. Poke many holes in them using a sharp-tipped knife.

Mix all ingredients well in a bowl, and rub all over the pork medallions. Transfer to a sealable bag and marinate overnight.

Heat a cast-iron pan or skillet to high heat and drop the pork in the pan. Sear until both sides are browned well - about 4-5 minutes on each side. Remove from heat, rest for a couple of minutes and serve.
Le Creuset – My favorite cookware:
https://www.lecreuset.ca/?gclid=CjwKCAjw6qqDBhB-EiwACBs6xxWj_1T4AI85PRJ3HBoPx3HreKdDTWPyzXZ_OWTkGH_iCBbpQNR3_xoCjTEQAvD_BwE